Accessories
Hornby's Canopy City is proud to stock top brand name accessories to better outfit your truck or SUV.
All Climate Soft Roll Up Cover
Lifetime Warranty
Automatic Tension Control
Operates in less than 60 seconds
Industrial Strength Vinyl Coated Fabric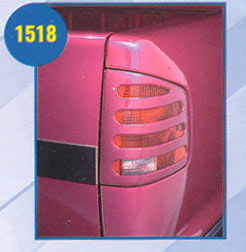 V-Tech Tail Light Covers
V-Tech was the first to offer a horizontal slotted paintable tailgate cover. We are proud to say that it is still our best selling design. The "Originals" have larger, more symmetrical slots and are vacuum-formed from rolled edges and a seamless finish. These high quality precision fit taillight covers are best on the market.
Carr Truck Steps
Nothing Trucks like Carr.
Most Steps are one-piece castings.
Super strong alloy won't rust
Available in bright or black finish, can be custom painted.
Varios steps sold
Weatherguard Cross Boxes
Cross Boxes offer easy access from either side of the truck. Each cover operates and locks independently. Cover feature D-shaped weather stripping to seal out dust and weather. A steel divider tray is included for organizing small parts and tools.
Weatherguard Saddle Boxes
Saddle Boxes offer a single cover which opens wide enough to provide easy access for larger, bulkier items. The pushbutton on each end of the box allows you access from either side.
Weatherguard Underbed Boxes
Underbed Boxes – still the most rugged available. The cabinet is made out of a combination of 14 gauge and 12 gauge steel. The flanged design, couple with weather stripping, seals out weather and road grime. Units finished in either black or white Armor-Tuf Bonded Coating.
Custom Flow Tailgates
CustomFlow tailgates come in regular as well as 5th wheel styles. Their durable black powder coat finish may be painted to match your vehicle's factory colour. With a convenient centre handle CustomFlow tail gates are easier to open and close, and there's no trouble with latches and hooks
Roll N Lock Cargo Divider
Roll N Lock the most advanced retractable truck bed cover is now available with a new accessory, Cargo Manager, the industry's first and only moveable bed divider. This dynamic product combination affords truck owners not only the ability to cover and secure the contents of their truck bed, but also prevents objects from shifting about the bed when stopping or turning.